Download the Fortune 1000 IT Leadership Playbook
Designed by Sean McDermott, the IT Strategist
Who Built the NOC Infrastructure for the Fortune 1000
Is Your IT Organization Relying on a Half-Baked Playbook to Survive the Most Rapidly Accelerating Time of Change the IT Industry Has Ever Seen?
Discover How Your IT Operations Strategy Could be Holding You Back And
Get the Plays You Need to Instantly Amplify Your Team's Performance and Ability to Respond to Change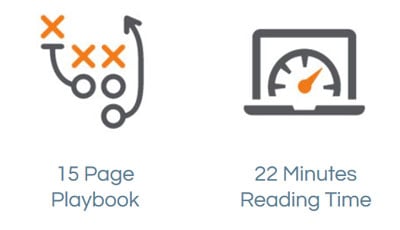 Discover the Strategy You Need to Step into the Shoes the World Needs You to Fill
The world is calling for a new kind of IT leadership. One that understands how to build plans now for a future…none of us can see yet. The world needs you to fill the shoes of an IT Executive who will lead a complete evolution of IT and its role in the organization. An evolution that will require yesterday's game changers to become tomorrow's game makers. For those who accept the call you will lead your organization through the most exciting times humanity has ever seen.


Here's Why You Must Move to Offense to Thrive
in 2020 and Beyond
The next phase of IT is going to be led by a different kind of IT Executive. The reality is that IT is morphing faster than is humanly possible to prepare for and that means that IT organizations have no choice but to move to offense. IT leaders who stay on defense will lose as the complexity of data continues to grow and the acceleration of growth outpaces Moore's Law predictions.
This playbook will give you what you need to know now so you can respond to the acceleration of change with a strategic plan that is agile enough to accommodate for the unpredictable. Because let's face it, if you're only looking at next week, next month or even just this year…you're on defense. And the best you can do on defense is tie.
To win, you need to be able to score. This playbook holds the keys to your success and reveals the secrets Sean McDermott has been deploying for the last 30 years in his proven track-record of evolutionary IT Leadership.

You'll Get the First Look Inside Sean's Fortune 1000 IT Leadership Playbook to See his Secrets
IT is morphing because it gets more complex every day and we simply can't process the vast amounts of data coming in to understand where the issues are within these increasingly complex environments. AI and machine learning are bringing in the ability to augment the human's ability to process data, but it requires a completely different strategy for IT Operations. And let's not forget about our people. IT Leaders must combine strategies for Organizational Change Management with strategies for getting ahead of the level complexity their organization will face in the next 12 months, much less the next 5 years.


Here's what to expect in your first look at Sean's Fortune 1000 Leadership Playbook
The 5 Steps to Become a Better Offensive Leader
6 Tips for Flawless Execution of Your Strategy
6 Steps to Measure Adoption of Your Strategy
4 Keys to Leading Organizational Change
A Checklist of Must Deploy Actions in 2020
About Sean McDermott
Right now, you need a mentor who has successfully faced adversity
In the last 25 years, Sean has worked through the dot.com bust in 2001, watched the Pentagon burn from his office window on 9/11, witnessed two wars in the Middle East and Afghanistan with the seemingly endless casualties coming home, and managed through the great recession of 2008 when the economy collapsed..Sean is no stranger to adversity and has a track record of success even in unprecedented times like these. Sean's experience combined with his life experience make him the perfect mentor for today's top IT leaders.

To download the Fortune 1000 IT Leadership Playbook fill out the form below.