85% of Fortune 1000 IT teams have made adjustments to their 2020 goals and objectives
Discover what that means for IT and how today's leaders are responding
The 2020 IT Economic Impact Study reveals that the COVID-19 global pandemic has had a substantial impact on Fortune 1000 IT teams. This impact has caused 64% of teams to pivot into new products and services and shift goals and objectives to support remote work and collaboration needs.
Join us for the first webinar in this series and hear Sean McDermott, CEO of Windward Consulting and RedMonocle and Andi Mann, CTA at Splunk as they discuss the first reveal of the results of the research study. This fireside chat is focused on what these shifts will mean for the industry at large and how IT leaders in IT Service Management, IT Operations and IT Security can accelerate deployment and user adoption for digital transformation during a time of rapid change.
You'll discover:
The revenue impact of COVID-19 for the Fortune 1000
How and where IT leaders are prioritizing cuts to staff, consultants and outsourcing
What IT leaders prioritized in their contingency plans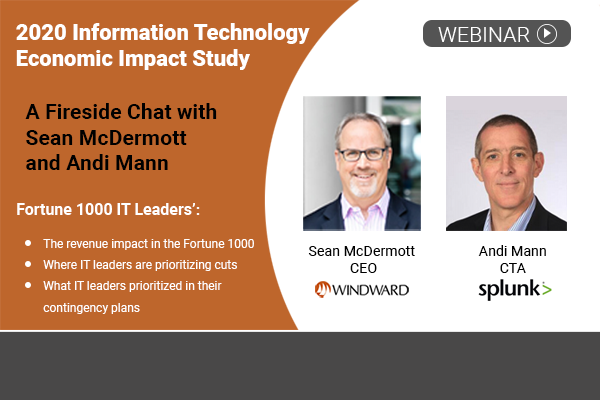 About Sean McDermott:
Sean McDermott is an IT industry pioneer, engineer and consultant who has helped Fortune 1000 IT leaders navigate through massive industry change over the last 23 years. As the CEO of Windward Consulting Group he has created an A-Team the Fortune 1000 relies on to accelerate digital transformation and user adoption. He is also the CEO of RedMonocle, a SaaS platform to help CISO's and Enterprise Architects understand technology risks, gaps and overlaps. Previously, Sean was the Founder and CEO of RealOps, Inc., the pioneer in enterprise management Run Book Automation solutions which was acquired by BMC.
About Andi Mann
Andi Mann is a Global Chief Technology Officer and Chief Strategy Officer. He is recognized and awarded as a leading technology analyst and explorer, with varied experience delivering business results through technology excellence and innovation. He leads global cross-functional teams in technology, strategy, and innovation, with strong marketing, sales, and partnership skills, to deliver on business goals. As a trusted advisor he has proven success guiding other executives and diverse teams in technology strategy, product innovation, business development, mergers and acquisitions, and more. Andi currently serves as the Chief Technology Advocate at Splunk, Inc, the global leader in bringing data to every part of your organization.
Survey Analytics provided by CompassRed
Market research conducted by Helix Market Research